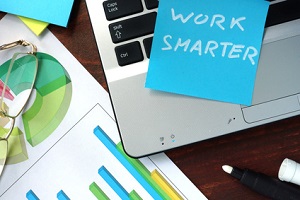 If you are already offering live chat support service to your customers, you may have been thinking how to optimize your live chat procedures so that the tool brings the most benefits both to your company and your clients. This post is for you.
If you have only been considering to add live support to your website, you may also find this blog useful to outline for yourself what steps will be needed to make this tool efficient and worth having.
A survey by Software Advice concluded that a majority of U.S. adults have used live chat at least once. Many clearly express a preference for it over more traditional customer service channels for the simple reason that it offers many benefits that other channels don't.
Despite all these benefits, some businesses have complained that their live support tool has been underutilized by their clients, which is why they are considering dropping it altogether. Some say that the investments in this support tool are not justified.
Putting aside specifics of some businesses, where the customers may indeed find voice or email support more appropriate for their needs, there are many cases when inefficient handling of live chat produces poor results.
So let's take a look at a few different ways of putting your live chat to work and having better results with it.
1. Plan carefully how and where you are going to offer live chat support feature to your customers. Of course, if you would like to maximize the benefits from live chat and engage as many clients as possible, the best practice is to make chat icons clearly visible and place them on all of your website pages, in the footer or sidebar, so that no client can miss it if they have a question.Consider also adding live support links to your email signature, in your social media profiles, into the applications you are offering to customers, on your forum if you have one, etc.
2. Do you run more than one website? If they are related in content, you can save costs by using the same live chat account on all of your websites and even engage the same support team to take care of all websites' customers. If you do need several accounts with different messenger customization, Provide Support live chat operator console allows to easily and set up and manage multiple accounts from the same application. This means you can still employ the same customer service team to serve all of your websites.
3. Optimize the time of each live chat interaction by training the agents to effectively use the live chat application. The chat console allows to see the customer's information before the start of the chat and during it and make better judgments on the nature of the customer's problem or question. This helps to conduct interactions which are less time consuming and more effective both for the customer and the company.
4. Explore proactive chat option to increase engagement with your existing clients and turn new website visitors into customers. Use this feature wisely and avoid becoming a bother to your visitors by sending multiple pop-up screens with irrelevant invitations. Rather send less invitations, but target them better. Spot the issues your website visitors are struggling with and try to be of help. Turn your marketing effort into a customer service one and proactive chat will no doubt be appreciated and accepted by many of your clients.
5. Live chat is known to be a cost-effective support channel, especially compared to phone support. If you would like to drive more of your client traffic to this channel, it is important to build credibility for it with your customers. To minimize unavailability complaints, make sure that your support hours are advertised to clients and you stick to your schedule.
6. Enable offline messaging when your support is not available. Being able to send a message instead of just being told that support is not available, gives the customer an alternative and convenient option to describe their problem and receive a solution.
7. Enable visitor real-time tracking. This feature allows the operators to see all customers who are on the website at any given moment, to know which page they are viewing, for how long they stayed on the page etc. This information is very useful to identify the customers who may need help and try approaching them with proactive chat, as well as for quickly locating the details of the customer who has started a chat by himself.
8. Pass additional customer details from your website to the operator console. This can be useful for the operator to have hands-on information about the client's account or their buying history for example. Based on this information, they can provide a more qualified and quick support.
So these are my quick tips for better productivity of your live chat support tool.
Are there any other aspects of live support that you find important for getting the maximum benefits from live chat? What tricks does your company employ? Please share your thoughts in the comments.
_____
Provide Support is a leading customer service software provider, offering live chat and real-time visitor monitoring tool for businesses: www.ProvideSupport.com

Latest posts by Maria Lebed
(see all)