Operator permissions
We are constantly adding new features to the Operator Console. The usage of some of new features requires greater attention and responsibility, and you may want to disable these features for some or even for all your chat agents. That's why we implemented the completely new block of settings in the account Control Panel - Operator Permissions.
Operator Permissions allow to grant or revoke access to certain console functions. Currently these functions are:
Automatic chat calls acceptance
Blocking abusive visitors by IP
Both permissions are enabled by default. However, automatic chat calls acceptance function should be additionally enabled in the Operator Console settings.
Operator permissions can be set in your account Control Panel, Operators & Departments page. Just click "Operator Permissions" link above the operators' table and you'll see your current settings and will be able to edit each operator profile to grant or revoke specific permissions.

How operator permissions work in Operator Console
Both IP blocking and automatic chat acceptance functions are already available in Operator Console but starting from this release, you'll have control on their usage by your agents.
If "Automatic chat calls acceptance" is revoked, the corresponding Operator Console option gets disabled.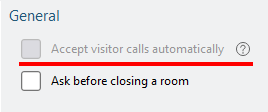 If "Blocking abusive visitors by IP" is revoked, the corresponding function in the text input field gets disabled. Access to the list of already blocked IPs gets disabled as well.

Minor improvements
Improved saving and restoring tables' layout
Improved parsing URLs in the chat text
Improved parsing UA strings
Improved error processing on the login form