We created the classic version of the chat window when we started Provide Support in 2003, in a totally different era in terms of technology, design and human interaction. But since then, the world has changed, and so have the needs of businesses and users. That's why we've completely revamped our chat window to meet the demands of today's new communication landscape. So, what does the new messenger have to offer?
1. Mobile-friendly design and user experience
Our new chat window is perfect for mobile screens! It's designed to work smoothly on phones or tablets, with a layout that's easy to use and read. No more squinting at tiny buttons or struggling with hard-to-read text.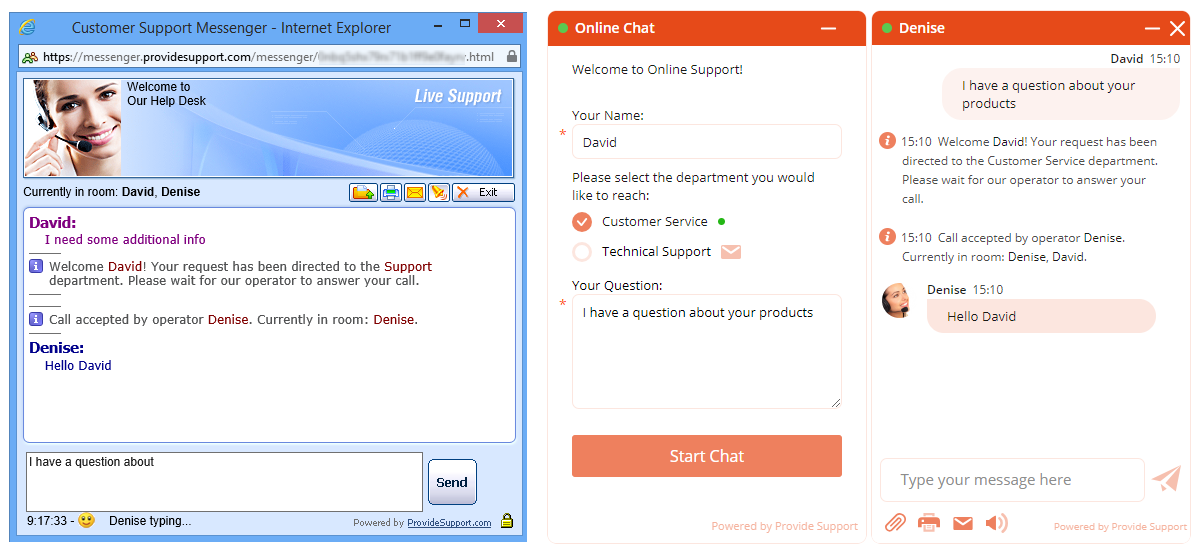 2. Design and customization options.
We know how essential branding is for your business. That's why the new chat window comes with multiple color customization options, so you can match it perfectly with your brand colors. Moreover, its overall appearance seamlessly integrates with your brand, giving the impression that it's an integral part of your website, rather than a third-party tool. This not only gives a more professional look to your chat, but also delivers a consistent online experience for your customers.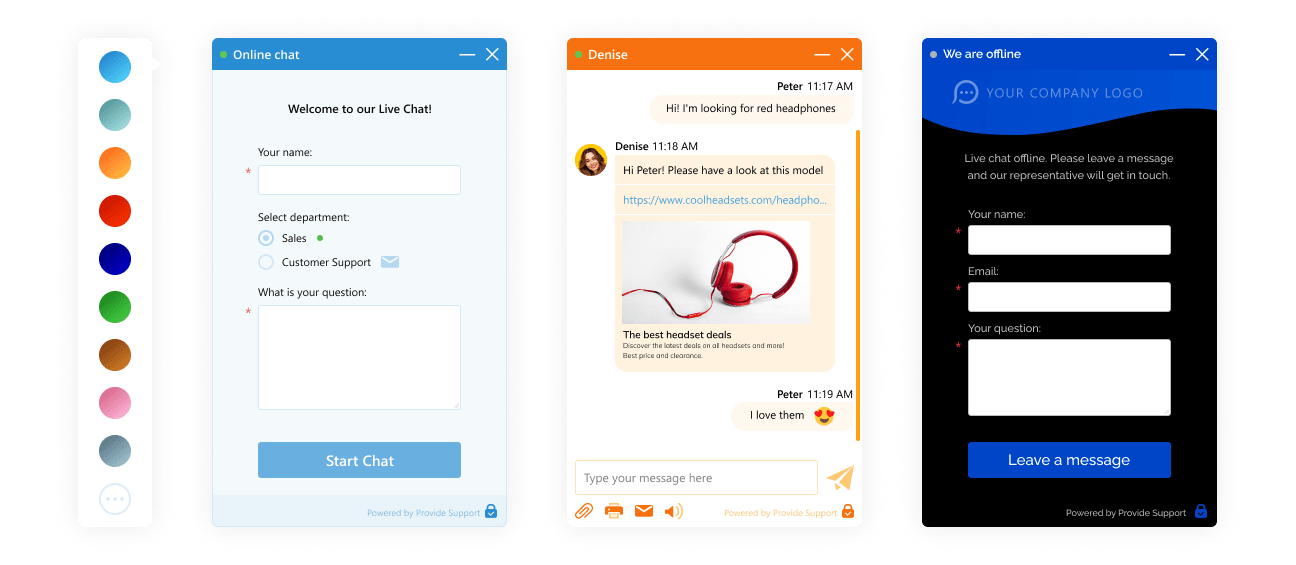 3. Security and privacy features
If you allow your visitors to send files through chat, the old messenger exposes your support agents and the whole network to harmful files often sent in .exe, .zip, or xlsx formats. The new messenger allows you to limit the file types that can be transferred through chat, without shutting down the feature altogether. Additionally, if you need to get rid of third-party cookies on your website, we can disable it for your account if you have the modern messenger enabled. And as we continue to develop new features, they will only be available for the modern chat window, as the development of the old one has been ceased.
Want to see what else the modern messenger can do? Check out this article.
How to Switch to the Modern Chat Window
Making the switch to the new chat window is a seamless process, especially if you are using the standard fully-featured code on your website. Follow these two simple steps:
Step 1: Head over to the Account Settings -> Chat Window Type page in your account Control Panel and choose "Use modern chat window." And don't worry, if you ever change your mind, you can always switch back to the old chat window.
Step 2: Customize the look and feel of your messenger on the Account Settings -> Live Chat Window page to make it uniquely yours.
Not sure if you're using the standard chat button code on your website? Our 24/7 support chat is here to help you out. Just reach out, and we'll check it out for you.
Test mode - a Private Preview
If you want to play around with the modern messenger privately before unveiling it to your website visitors, we've got you covered. Just specify your IP in the provided box after choosing the modern messenger option in the settings. For your convenience, you will see your IP displayed right below the box. This way, only you will see the new chat window, while your visitors will continue to see the old one. It's like a secret playground to get everything just right!
Once you are happy with how everything looks, just remove your IP from the settings and it will automatically reveal the new messenger to all your website visitors.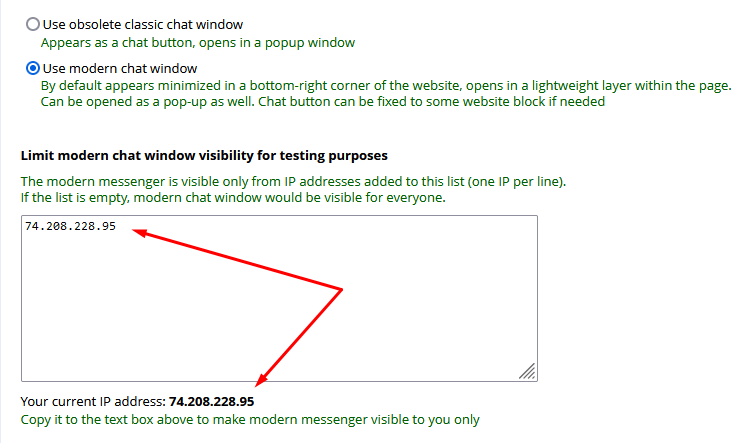 Modern chat window configuration possibilities
Two types of chat button: Sticky and Classic
Once you switch to the modern chat window, your chat button will automatically go into "sticky" mode. This means that it will stay always visible in the corner of your page, following your visitors as they scroll. No more hunting for the chat button when they need help! The chat window itself will also remain in place, making it easy for your visitors to multi-task during the chat, while making it harder to forget about the chat, which happens quite often with the old messenger that gets opened in a separate pop-up.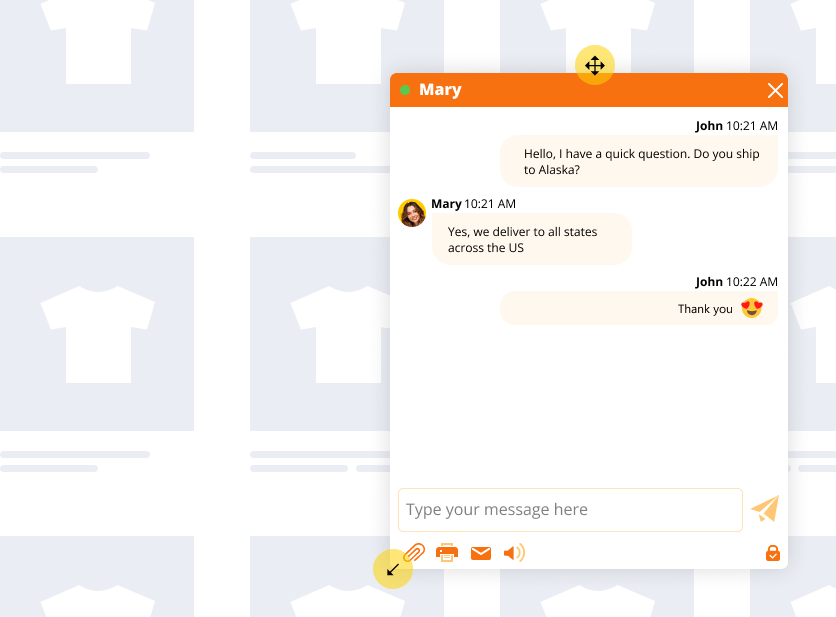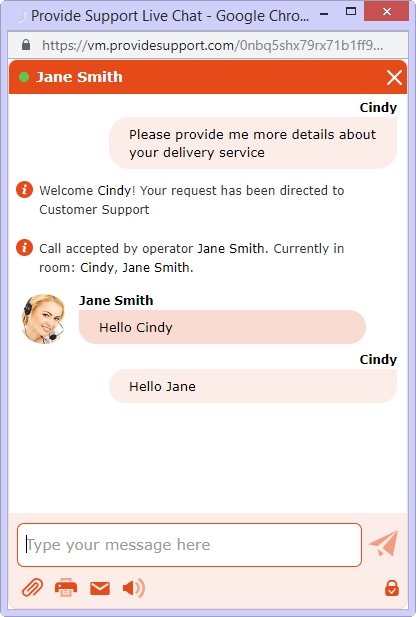 Of course, if you prefer the classic chat button and window behavior, that's no problem at all! You can keep the chat button in its original position, and the chat window will pop up as usual. Simply uncheck the "Sticky chat button" box and check the "Open chat window as a pop-up" box in your chat window settings.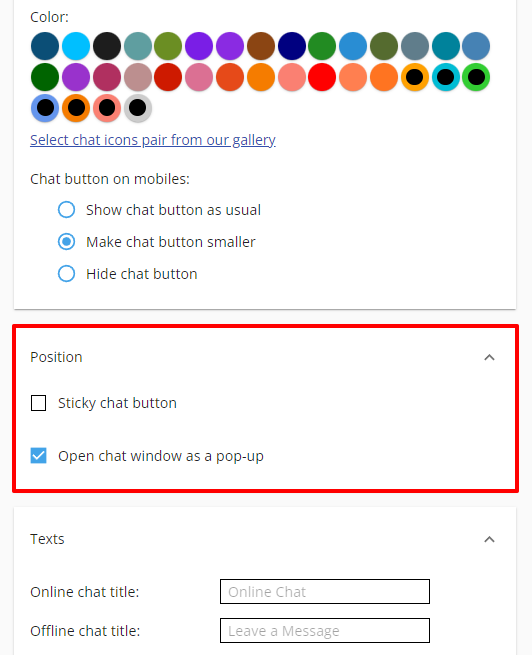 New advantages of the Sticky Button
In addition to remaining constantly visible in a familiar spot for most modern users, the sticky button provides two extra benefits that will enhance your customers' experience. First, it includes an unread messages counter, ensuring they never miss any important updates from your support team. Second, your customers will be able to preview the last message sent by your support agent, enabling them to quickly catch up on the conversation without losing track. This feature makes it even more difficult for customers to get distracted and forget about the chat, while simultaneously allowing them to effortlessly continue browsing your website while waiting for a response from your support rep.
Pro tip: this element his can also be used as an eye catcher, inviting your visitors to initiate a chat with you after they spend some time on your website. You can customize its appearance and behavior on the Account Settings -> Eye Catcher page.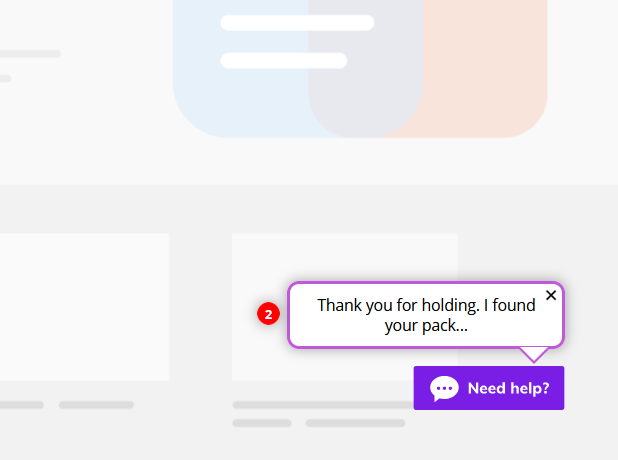 Several chat buttons/links on the same page
If you need to add several static buttons on the same page, we've got you covered! Whether it's a graphic chat icon or a text link, you will need just to add a simple HTML tag that's provided to you on the code page.
For the graphic chat button, follow to Chat Button Codes -> Recommended Code page, copy the code for the additional button and add it to the spot where you'd like it to be displayed.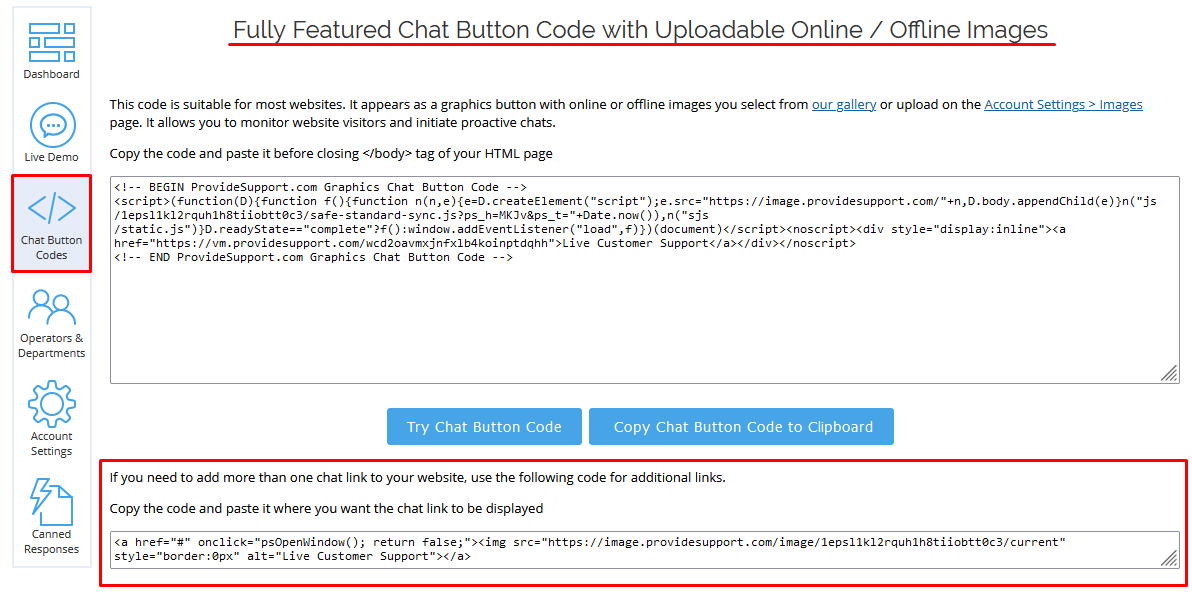 For the text link, scroll down to the similar block on the Chat Button Codes -> Text Chat Link Code page. In both cases the code represents a simple <a> tag with either text or image attached to it, so adding it to any website, either manually or through a CMS, should be very easy.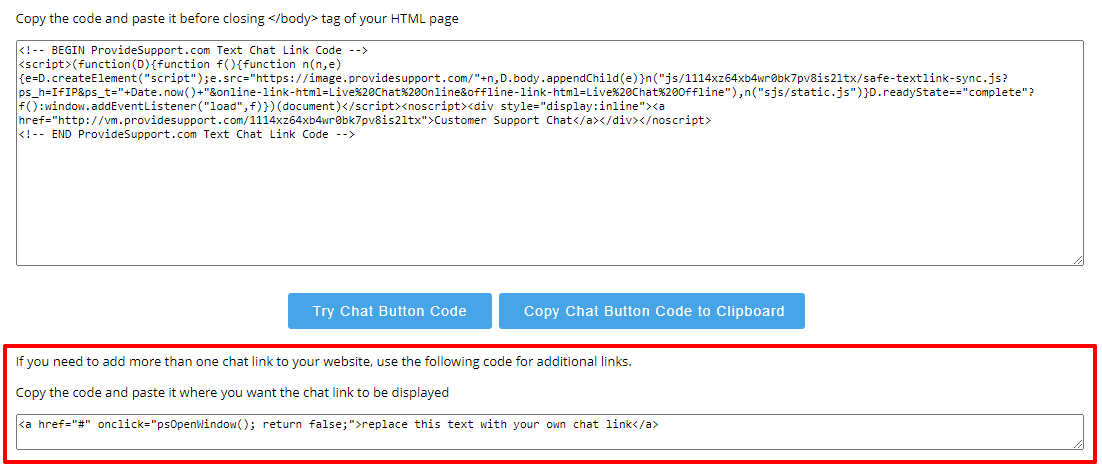 Customization options
The modern messenger comes with a bunch of new customization options. When you make the switch, you'll see the new and improved Live Chat Window page with more settings and a preview section. There you can tweak your chat button and window appearance, add custom window titles, and enable or disable various options for your visitors. The best part is that you can preview all the changes before applying them, making it a breeze to create the perfect look and feel for your chat.
And here's a neat trick: you can even see how it'll look directly on your website by entering your website link at the bottom (assuming you've already integrated the chat button).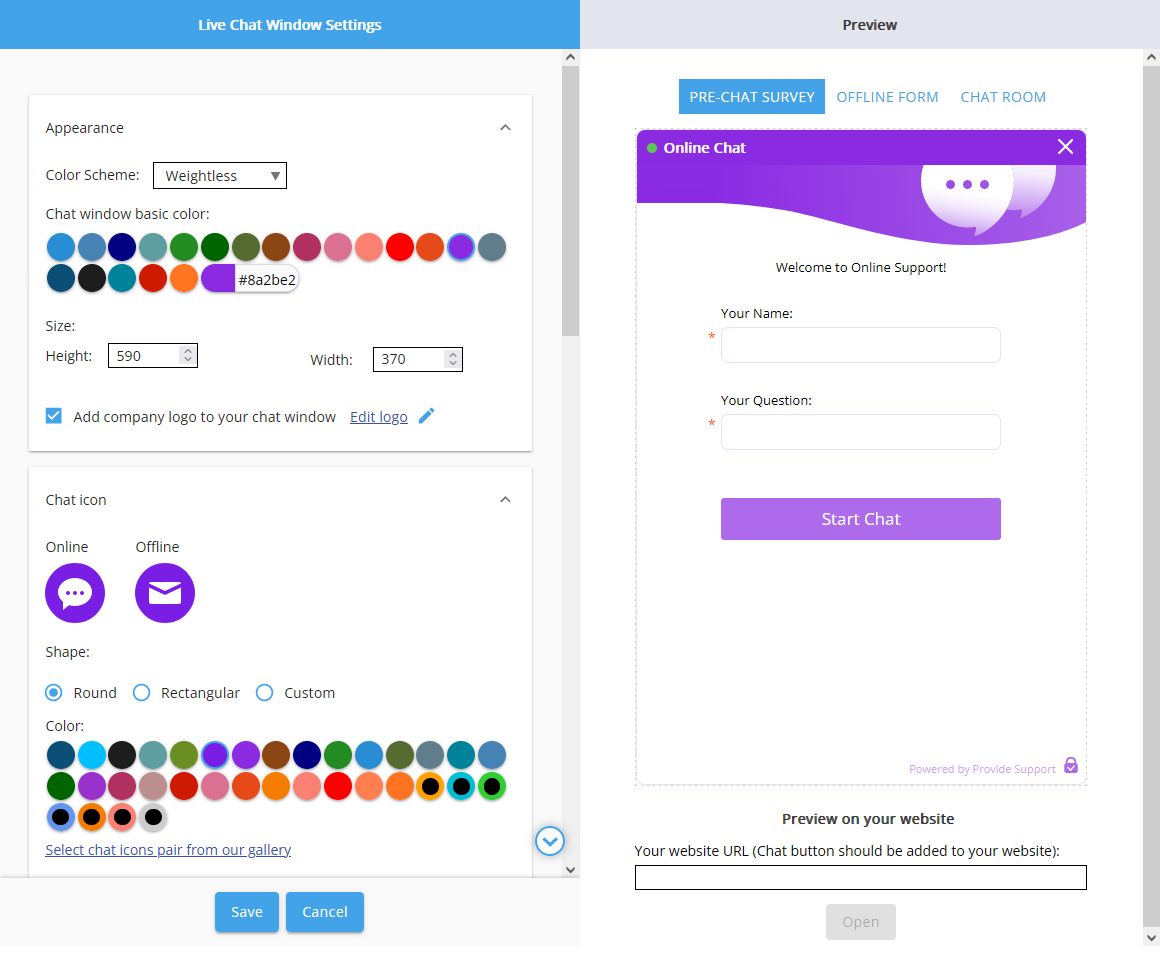 Header image
In the first block of settings, you will be able to customize the color scheme of your chat window, change its size and add your company logo or any other image to the header.
After clicking "Edit logo", you will be able to choose or upload the header image and edit it. If necessary, you will be able to reset all the changes and start over by clicking "Revert to original".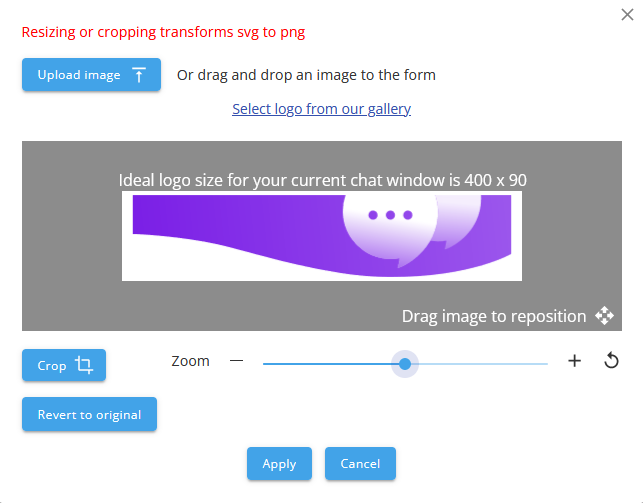 Texts and Fonts
With the modern messenger, you will have a possibility to customize your chat window title, choose a different font for your texts and make it larger by checking the box "Enlarge font size".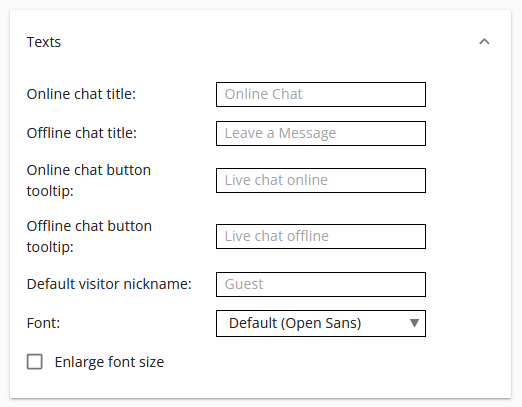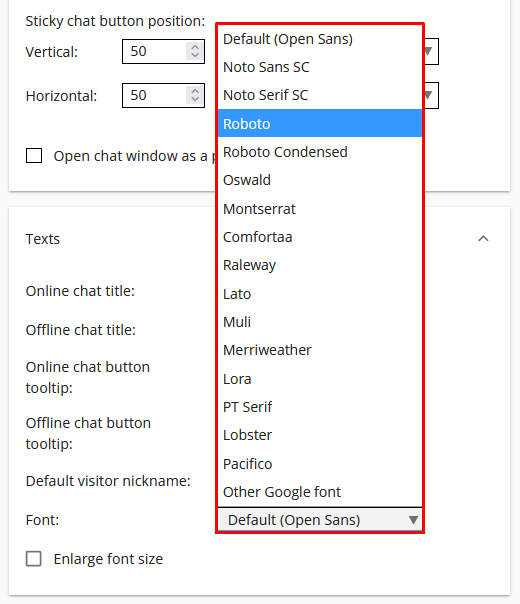 Chat window features
In the last block of settings, you can enable or disable different options in your chat window, as well as limit the file types that can be transferred through chat to protect your support agents and network from harmful files.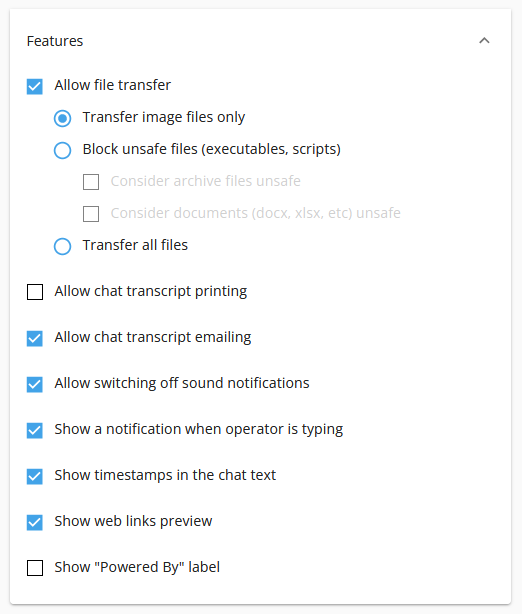 So, what are you waiting for? With improved customization, security features and mobile-friendliness, our modern messenger will be the perfect upgrade for your business's chat support.
If you've got any questions or need assistance with switching to the new messenger, feel free to reach out through our support chat anytime. We're here to help 24/7.