General
Regional settings are used by the system to set language for uncustomizable elements (chat button captions, hints etc), proper date/time values in chat transcripts and other messages sent by the system and to encode all email messages properly.
Customizing regional settings
You can change regional settings in your account Control Panel, Account Settings / Regional Settings page.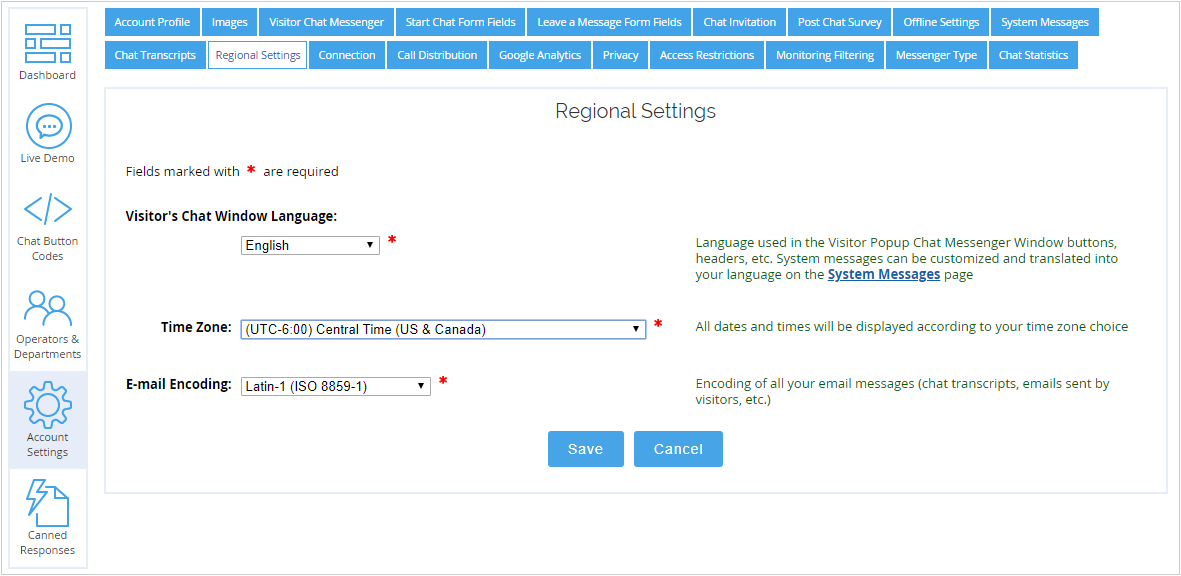 Regional Settings page
Visitor's Chat Window Language is applied to all elements of the Visitor's Chat Window that cannot be translated from the account Control Panel (header, button captions, hints, etc.) and to default customizable elements such as default chat window and field titles and system messages. If the translation for customizable elements is not available, you can translate them manually. If you have already added fields and updated system messages before choosing language customization, you will get the following warning: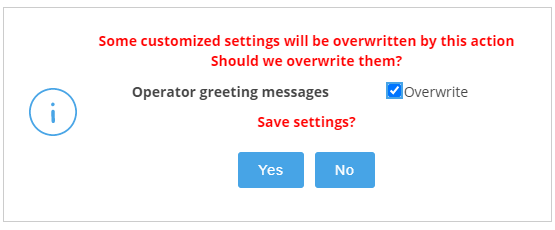 Translating customized account
Note! If there is no needed language in the list, please contact us in our support chat or via email.
Time Zone is applied to all messages sent to you by our system. All dates and times in messages will be displayed according to this option. Started and Finished time in chat transcripts and a chat date and time in chat transcript email Subject is also displayed according to the time zone.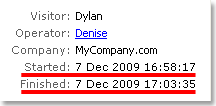 Time Zone option in chat transcripts
Time Zone is also applied to copies of chat transcripts your visitors send themselves from the Chat Window.
E-mail Encoding is used in chat transcripts and offline messages sent by your visitors from the Offline form. Please choose the encoding which is usually used with your language to have all characters displayed properly.