General
To have the ability to chat with your website visitors you need to login to thebrowser app.
There are two possibilities to start chatting:
•A visitor can call to your chat
•You can send a chat invitation to a visitor
In any case, a separate tab will be opened in the app for each chat conversation. You can switch between tabs to handle several chats concurrently.
There is no possibility to chat with several visitors in one chat room. But it is possible to invite several agents to the chat room.
Tabs 1 and 2 on the image below are accepted chats.
Tab 1 is the active chat as this tab is opened currently. You can see the chat history of this chat in the app and send messages to your visitor until you switch to another tab.
The chat on the tab 3 has not been accepted yet - the tab still contains Accept Call (5) button. You need to press Accept Call button to start chatting with a visitor.
Managing chat calls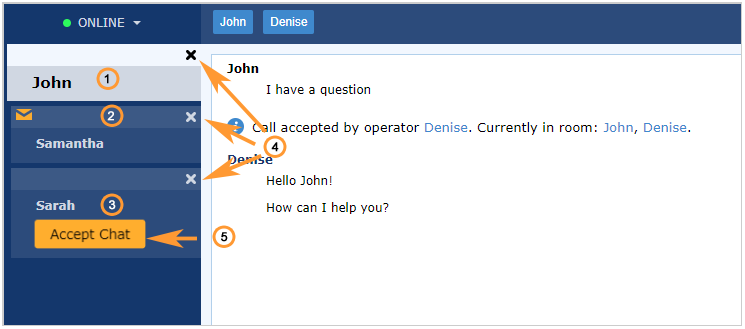 Chat tabs in a browser app
To accept an incoming chat call, please press Accept Call (5) button on the chat tab.
Whenever you wish to finish your chat, please click X (4) button on the chat tab.
If you wish to ignore or decline a chat call, please click X (4) button on the chat tab without pressing Accept Call (5) button.
App alerts and color scheme
By default an alert for all incoming chat requests and notifications is enabled. If you would like to disable sound alerts both for new chat requests and chat notifications, you can do this in your browser tab by choosing "Mute site" option: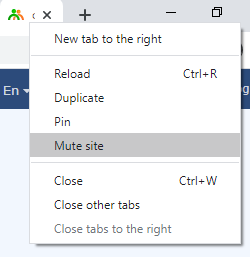 Disabling sound notifications globally
Additionally, you can disable and enable sound notifications in the "Settings"
menu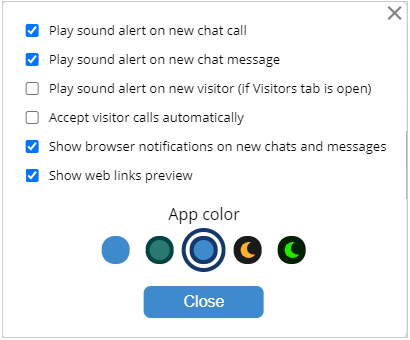 In the above "Settings" menu you can also choose the color scheme for your agent app. Several colors as well as dark modes are available.
App Status
Web based app allows changing app status from "online" to "away", this can be done manually by clicking on the "Online" status link n the left panel:

Browser app away status
App language
The browser app is currently available in English, German, French, Russian and Chinese languages. You can switch your interface language in the top menu: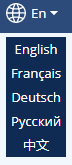 Agent app language
Possible problems
Chat call continues ringing after accepting the chat
This can happen if your Internet connection is slow or because of temporary connectivity issues on the way between your computer and our chat servers. The ringing will stop in several seconds in this case. This is a temporary problem and usually it is sorted out as soon as the connectivity issue is fixed. But if the problem remains for a long time, please contact us in our support chat or via email, we will help you to locate the issue.
Permissions
The Provide Support account administrator can restrict auto accepting of chats for specific agents. In this case this option will be disabled in the Web app settings: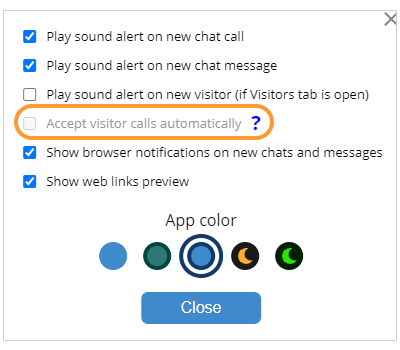 Auto accepting of chats restriction