General
Default settings
Each new account in our system contains a default set of operator profiles and departments:
•3 operator profiles with operators1, operator 2 and operator3 logins and password1, password2 and password3 passwords and operator Nick Names "Operator 1", "Operator 2" and "Operator 3"
•2 departments named Customer Service and Technical Support
By default your operator profiles are assigned to both departments and their login and passwords are operaotr1 / password1, operator2 / password2, operator3 / password3
Default Operators and Departments configuration
How it works
The chat button is connected to the entire account, to all departments and all operators. It is impossible to have the chat button connected only to a certain operator/department.
It is also impossible to assign a particular operator/department to a separate web page. As a workaround you can use the Select Operator and Select Department fields on the Start Chat Form to allow the visitor to select the operator or department manually.
Editing operators and departments
You can add/delete/edit operators and departments in your account Control Panel on our website, Operators and Departments page. Operators and departments reordering is possible by moving departments with help of green arrows
Operators and Departments page
In our system you can create any number of departments. Number of operator profiles is limited by the subscription.
Reordering
You can change the order of created operators and departments in your account, by moving them with help of green arrows or by dragging and dropping them.
Operators and Departments reordering
The chat button will be always offline if there are no departments in your account or if there are no operators assigned to any department.
Please create at least one department and associate at least one operator with this department.
No departments created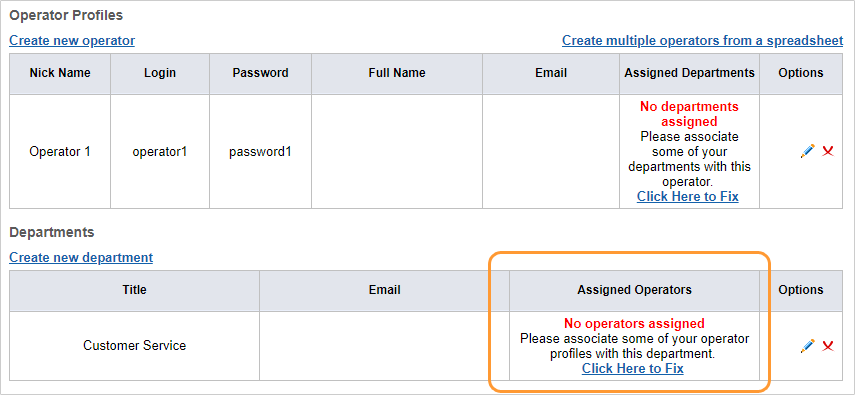 No operators assigned to departments