General
Live Demo allows you to test your chat fully before publishing the chat button on your website. You are able to check all chat settings, visitor chat window, transcripts sending, offline settings, monitoring feature, etc. with Live Demo.
You can find Live Demo page in your account Control Panel.
Live Demo consists of two parts: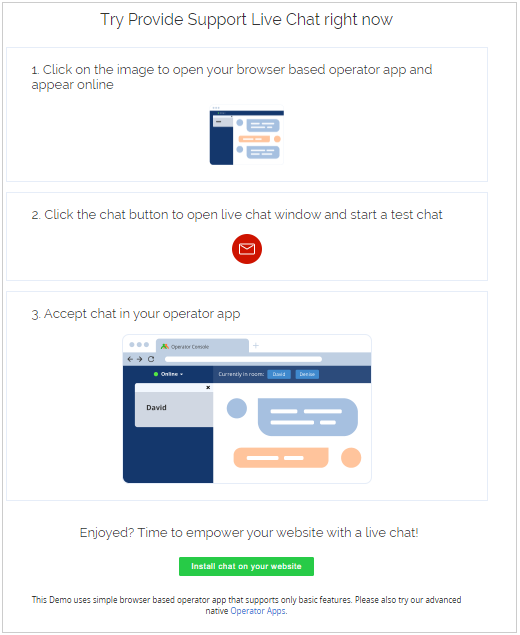 Live Demo page
1.Your agent app
2.Example of your chat button
To start using Live Demo, please do the following:
1.Click on the image of the agent app (1) to open the web-based agent app. It will automatically login with credentials of the first listed on the My Account / Operators and Departments page operator
2.Click on the chat button image (2) to open your chat window and initiate a chat call
3.Enter a nickname and question in the chat window and click on the Start Chat button. A new room tab will appear in your agent app
4.Click on the Accept button in a new room tab in the agent app to accept a new visitor call

5.Try a real-time conversation (3) between the site visitor and agent
Possible problems
Chat button image is not visible
If you cannot see the chat button image on the Live Demo page, probably your agent app is offline and you've chosen "Do not show "Offline" chat button on my website" option on the Account Settings / Offline Settings page. To fix this, please perform step 1 from the instruction above and reload the Live Demo page.
Operator logins locked
If you click on the image of the agent app but the app doesn't login automatically, this means that operator logins on your account are locked.
Possible reasons:
1.Trial period has expired on your account.
2.There is an unpaid invoice in your account and grace period for payment submitting has expired.
Agent App image is not clickable
If the image of the agent app is not clickable on the Live Demo page, this means that there are no operator profiles in your account. To fix this, please create at least one operator profile on the Operators and Departments page.
Operator Console logins but the chat button is still offline
If the agent app logged in successfully but the chat button is still offline, please try reloading Live Demo page. If this doesn't help, please check if your operator is assigned to at least one department in your account.