General
We offer our system on a subscription basis. The price depends on the number of agents in your account and billing period.
One time license is not available but you are able to subscribe for a longer billing period and benefit from our discounts.
Licensing policy
Our license limits the total number of agent profiles created in the account. All agent profiles can be online concurrently.
Each agent can download and install the native agent app on any number of computers.
One account can be used on any number of web pages or different websites without any additional cost.
How our billing system works
Provide Support billing system maintains balance of your account automatically. When you purchase a subscription and submit payment, your account is credited and the account balance is increased. Each day your account is debited by a small "daily spending" amount, which is equal to your subscription price divided by a number of days in your subscription period. For example, in one-operator 1 year subscription, daily spending is $99 / 365, which is approximately 27 cents.
When your account balance reaches zero, a new invoice for the next billing cycle is generated automatically. If your account has credit or debit card on file, the system will try to charge your card for the new invoice. If it succeeds, your account balance is credited and the invoice with "Paid" mark is sent to you, no further actions are required until the end of the new billing cycle.
Note! An invoice with "Paid" mark is also generated if your account is in Pending payment state. But the invoice is not actually paid until the account state is changed to Active.
If payment fails for some reason (expired card, insufficient funds, etc.) our system will send you the invoice immediately. If no payment is received within 10 days from the date of the invoice, access to your account for your agents will be temporarily limited. During this 10-day period our system will send several reminders and will make a couple of attempts to charge the card on file. You need to log into your account, update card details, and retry the payment. Agent access will be restored automatically and immediately after the payment has been submitted.
Your account balance can temporarily become negative if you have an unpaid invoice. This happens because our billing system continues debiting your account with daily spending amounts each day after the account balance reaches zero. Your balance will become positive when you submit payment for the new invoice. E.g. if there is a negative balance of $ -5.25 and an unpaid invoice in your account, your account balance after submitting payment will be $invoice_amount - $5.25.
Automated credit card charging
Auto charge is enabled for all accounts by default. This is the way how most of similar systems work. It allows saving the client's time needed to submit recurring payments and prevents limitation of the service if payment is not submitted in time. Auto charging is only possible if your valid credit card details are stored in our system. Recurring payments are also available for PayPal.
If you wish to disable auto charging for your account, please contact us in our support chat or via email.
Recurring PayPal payments
If you submit payment by PayPal, recurring payments will be enabled by default during the checkout process.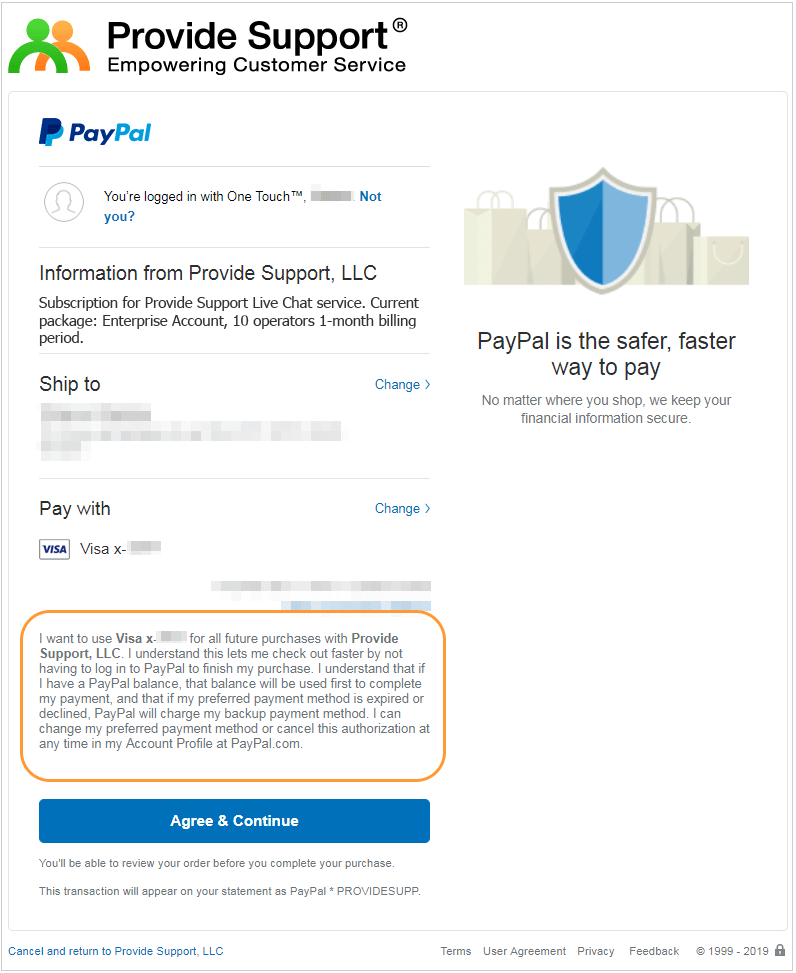 PayPal recurrent payments
If necessary you can disable it in your PayPal account profile.
Payment methods
We accept PayPal payments, almost all types of Credit and Debit Cards, payments through UnionPay cards, Alipay and Bitcoins. More detailed information about payment methods can be found on How to purchase page.
Updates
All updates and upgrades in our system are always free.