File transferring
To transfer a file to the visitor, please do the following:
1.Click
(Send file) button in the additional features toolbar above the text input area and click Browse… in the opened window and choose the file
2.Or drag and drop the file
3.Or paste from clipboard
4.You will see the File Transfer Manager showing your file sending progress
5.After the file sending process has been completed, the file will be shown to your visitor as a clickable link, which can be opened in a default browser.
6.If you sent a media file a preview will be available for it. It is possible to enlarge an image to its original size by clicking on it: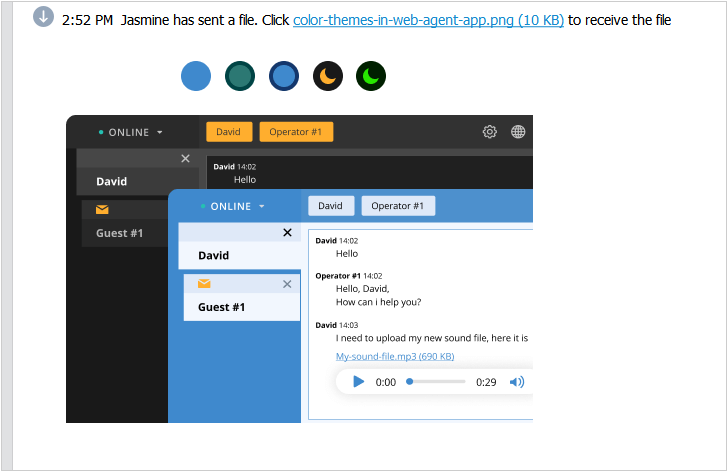 Images preview
7.To receive a file sent by the visitor, please click the link to the file in the chat area.
You can transfer files of any format through the chat unless file sending restriction is set in the account settings. The maximum allowed file size is 100MB.
Note! Transferred files are stored by the system until the chat is closed. As soon as the chat is closed, the file is removed from our servers and the link to the file becomes invalid.
Note! Our system doesn't check files transferred through the chat. Thus we advise you not to accept files from your visitors if the file transfer wasn't agreed previously and to check transferred files with antivirus before opening. Some files can contain spyware or viruses and can harm your computer.