Live Chat Integration for CoreCommerce
If your online store is powered by CoreCommerce, follow instructions in the below guide to integrate Provide Support live chat software and start assisting your website visitors in real time.
1.First of all you'd need to get the code for your live chat button. For this, please follow the My Account / Chat Button Codes page, click there 'Fully Featured Chat Button Code with Uploadable Online / Offline Images' and copy it.
2.Now log into your CoreCommerce admin
3.Follow there Design / Edit HTML / CSS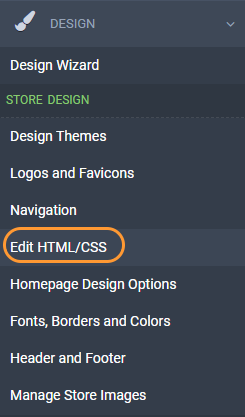 CoreCommerce Advanced Options
4.In Edit HTML/CSS choose footer.html as a file to edit
5.Scroll down to File Actions and insert your live chat button code before closing </body> tag
6.Now publish your changes and check how the live chat button looks on your website