Live Chat for Squarespace websites
Adding Provide Support Live Chat to your Squarespace website is quite a fast and easy task. Please follow the steps below to proceed with integration:
1.In your Provide Support account Control Panel, please follow My Account / Account Settings / Images page and select a set of vertical images for your chat buttons. You can take a look at the available Live Chat buttons in our https://www.providesupport.com/live-chat-gallery/chat-icons-en.
2.Follow to My Account / Chat Button Codes page and choose there 'Fully Featured Chat Button Code with Uploadable Online / Offline Images' then check 'Generate a floating chat button code' and specify vertical and horizontal position for your chat button. On the example the chat button is set to appear approximately in the middle of the screen tied to the right side of it.
Note! If you use Modern embedded chat messenger, there is no need to generate floating chat button code. You can set the position of the chat button as well as your embedded chat window directly from your account Control Panel.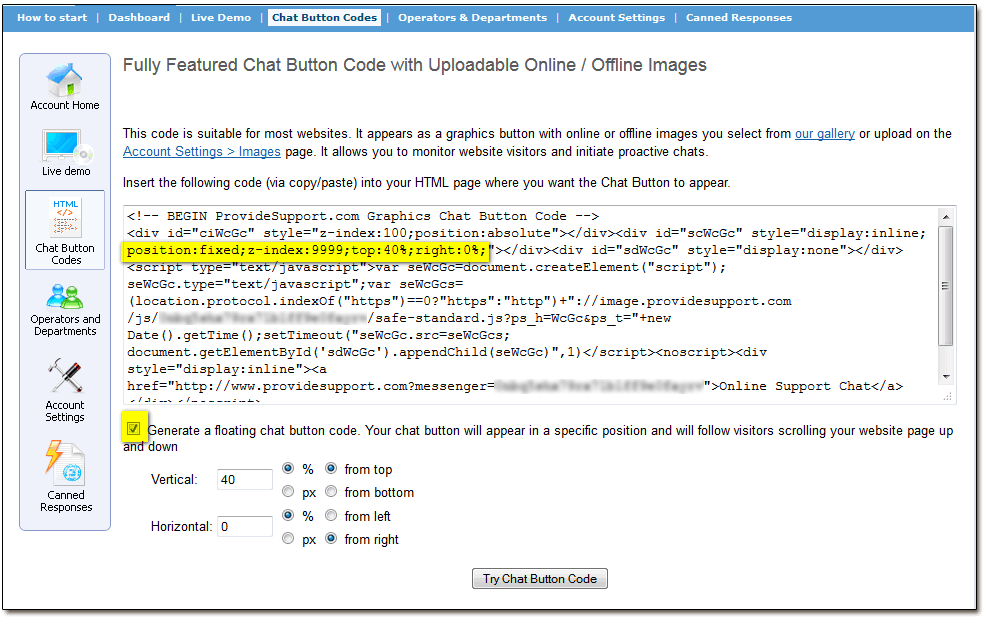 Chat Button Code for Fixed Position
3.Now log into your Squarespace admin panel and choose there Settings / Advanced / Code Injection option
Squarespace Settings
4.Now Insert your Provide Support Chat Button Code to a website footer. You can also add it for your Order Confirmation page. For your Order Confirmation page you can use Passing Information Code to pass available variables to your operator console, so that your customer support representatives could use this information while communicating with your customers.
Squarespace code injection
5.Save changes and check how your live chat button looks on your website:
Squarespace website example