General
Provide Support Joomla module is compatible with Joomla versions 2.5 and 3.x and supports 2 ways of integration:
1.Adding the chat button or text chat link to an available position for the module
2.Adding the chat button or text chat link to a fixed position on the browser screen, in this case the chat button or link can be placed to any location on the browser window (e.g. right bottom corner) and will not depend on your Joomla theme settings
Installation
The module is available in .zip format and can be installed the same way as any other Joomla modules. To install, connect to the module and turn it online, please follow the instruction below: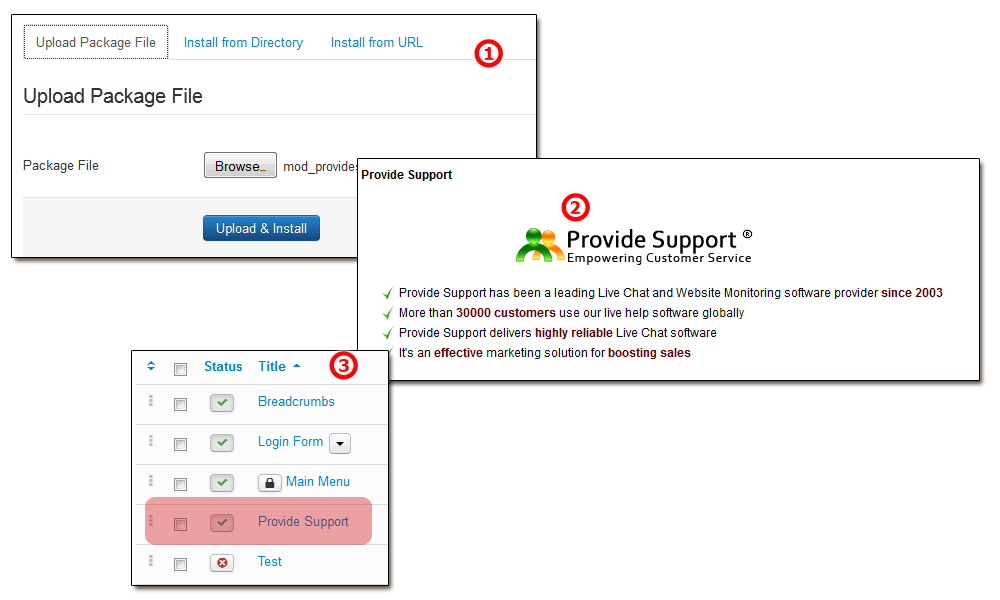 Provide Support Joomla Module Installation
1.Upload the downloaded module .zip file and click 'Upload and Install' to proceed. Alternatively, you can install it from directory or URL, in this case you'd need to click 'Install' button to proceed.
2.After the module has been successfully installed you will get the following dialog with information about Provide Support Company
3.After installation the module will appear in the list of your modules and will be in offline status by default. To turn it online you'd need to click an appropriate button in 'Status' column
4.Click on the module in the list to proceed with its configuration.
5.Enter your Provide Support account credentials and click 'Connect to account' on 'Existing Account' tab to connect to your account. If you don't have an account yet, use 'New Account' tab to create it
6.Use module settings to position your chat button and control website monitoring feature
7.Make sure that 'Enable live chat module' option is checked to start using the module
How to remove the module
To remove Joomla module, please do the following: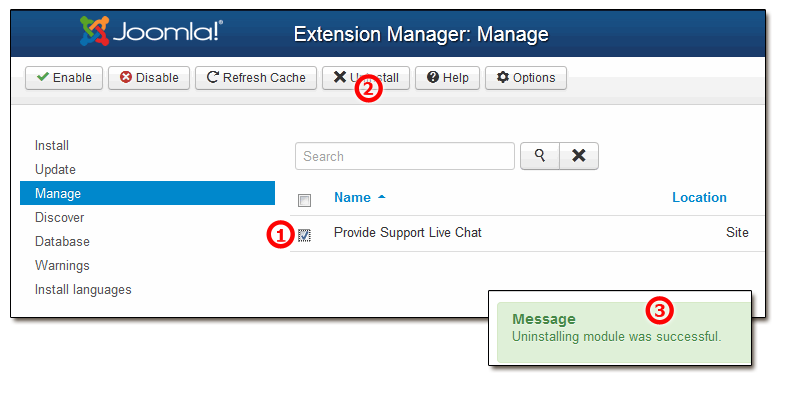 How to uninstall Provide Support Joomla Module
1.Follow Extension Manager / Manage and find there 'Provide Support Live Chat'
2.Click 'Uninstall' button to proceed with deinstallation
3.You will get the confirmation once the module has been successfully uninstalled