Provide Support and Magento Go advanced integration
Integration of Live Chat and Magento Go will require adding a code for your live chat button as a Custom JavaScript. Below you will find a detailed instruction with illustrations which will help you to add the live chat button to your Magento Go website. This instruction is for advanced integration which allows choosing the pages where the chat button should be displayed at as well as the theme position for it.
1.First of all you'd need to generate the code for your chat button. You can either generate a standard code and choose the chat button position from the available for your Magento Go theme positions or generate a floating chat button code, which will display your chat button in a fixed position and can be added to any Magento Go theme position. In this example we will describe how to generate a floating code. For this purpose, please follow to My Account / Chat Button Codes page and choose there 'Fully Featured Chat Button Code with Uploadable Online / Offline Images' then check 'Generate a floating chat button code' and specify vertical and horizontal position for your chat button. On the example the chat button is set to appear approximately in the middle of the screen tied to the right side of it.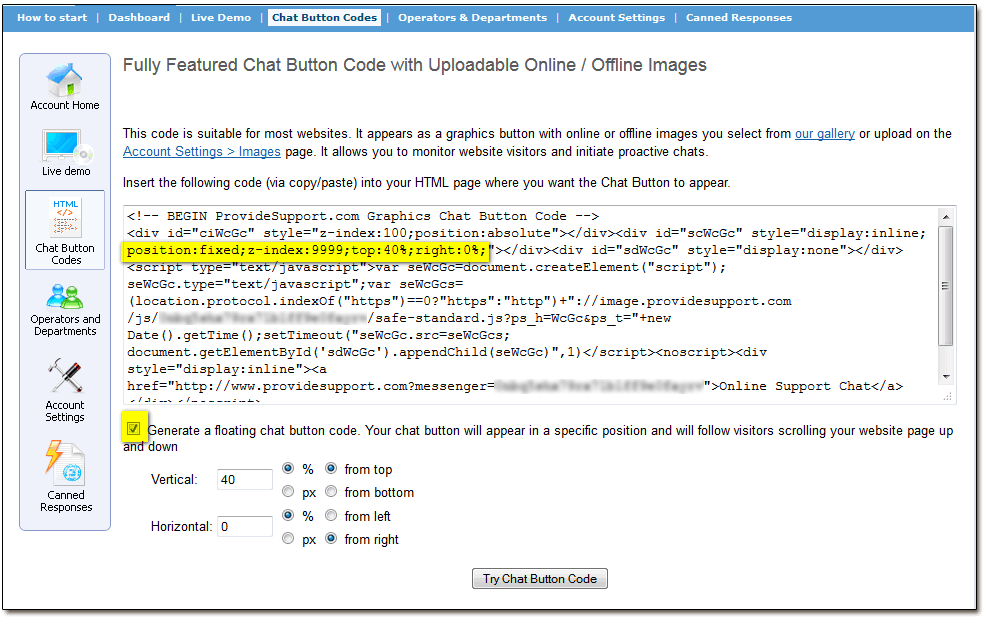 Chat Button Code for Fixed Position
2.Now to integrate this script with your Magento Go site you need to include the code in a new static block and add it to your web store using a Frontend App.
3.From your MagentoGo Admin panel, follow to CMS / Static Blocks and click Add New Block button
4.Fill out all the required fields. In the Content field, however, make sure to first click Show/Hide Editor to hide your HTML Editor tools. Then paste in your chat button code. Click 'Save'. If the editor is not hidden, your chat button code will be modified and appear as a simple text.
How to Insert Chat Button Code to Magento Go Editor
5.Next create a new Frontend App by following CMS > Frontend Apps.
6.Then, please select CMS Static Block for type and click 'Continue'.
Adding Fronted App Static Block
7.Now define a title for the block in Frontend App Instance Title then click Add Layout Update in the Layout Updates panel and in Display On, select which pages to apply this static block to. If you wish to apply it across your entire web store, select All Pages. In the Block Reference * field, select the position for your chat button. If you are using our floating code, we recommend choosing Page Footer Before **, this will ensure the code is added across all pages as this position is available for all themes.
Please Note!
* Some themes do not have positions available for selection in Block Reference, therefore, please ensure you choose the position which is available with your theme. Otherwise the chat button code will not be added and the chat button and monitoring will not work.
**If you add the chat button code to the Page Footer Bottom the chat invitation will be displayed incorrectly. If you still would like to use this position contact us in our support chat for solution.
Fronted App Instance Settings
8.Click Frontend App Options from the left side panel and specify the static block that will be included (the block you created while inserting the chat button code). In our case this is Live Chat Button block we have created earlier.
How to select Static Block
9.That's it! Now save changes. On the image below we added the chat button to a header position and the vertical chat button was added to a fixed position:
Chat Button Examples on Magento Go Website