How to start
To start integration you need to have an account in Provide Support Live Chat system. If you are an existing user, please log into your account Control Panel on Provide Support website and log into it with your credentials. If you have not had a chance to create an account yet, please register it here and start using your free 10-day fully functional trial.
Quick Integration Guide
If you would like to add a chat button to a fixed position in your website (either in your footer or tied to any other position), please follow these steps.
1.At the first step we will generate the code for chat button. This should be the code for a chat button tied to a fixed position. For getting such a code, please follow to My Account / Chat Button Codes page and choose there 'Fully Featured Chat Button Code with Uploadable Online / Offline Images' then check 'Generate a floating chat button code' and specify vertical and horizontal position for your chat button. On the example the chat button is set to appear approximately in the middle of the screen tied to the right side of it. If you would like it to appear in the right bottom corner, define 0% from bottom and 0% from right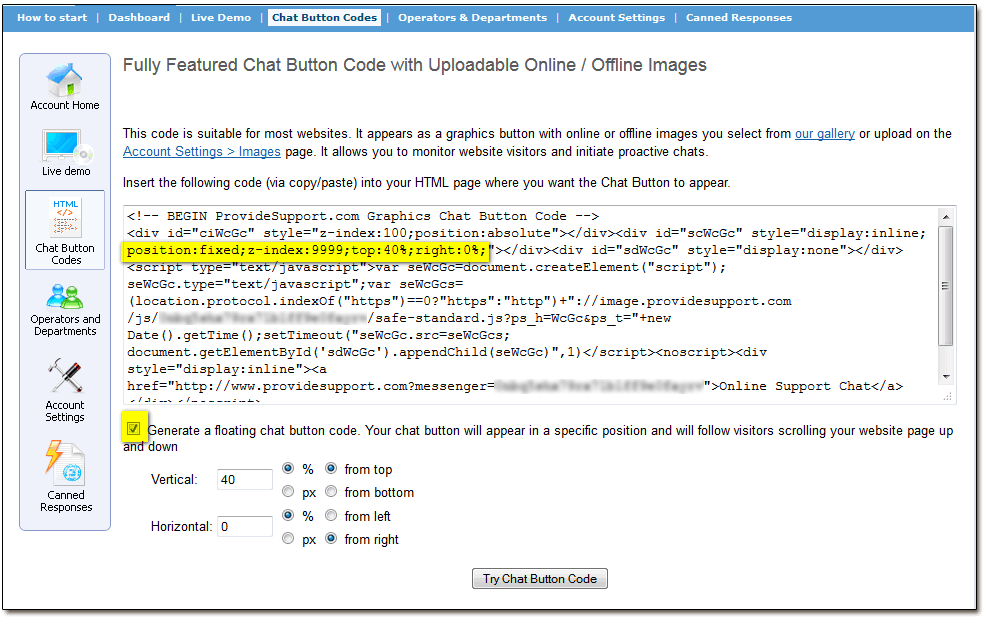 Chat Button Code for Fixed Position
2.After you have generated the code, please open your Magento Go Store Admin Panel home screen and proceed to System / Configuration page:
Magento Go Configuration Menu
3.Then open Footer in Design section and insert the code you generated on the Step 1 to Miscellaneous HTML box:
How to add the chat button code to the footer
4.Now click 'Save Config' button and your chat button will appear in the position you defined for it while generating the code.
Chat Button Example - right bottom corner
This integration method is fast and simple, however it does not allow choosing the pages to display the chat button at and theme position. If you would like to have more flexible opportunities for live chat integration, please check our tutorial for advanced integration.