Chat Button Codes Settings
With WordPress plugin there is a possibility to insert the following types of chat buttons or chat links:
1.Graphics Chat Button / Use Images Selected in your account settings. With this option, you will be able to show the chat button images selected from the gallery or uploaded to your Provide Support account Control Panel on Account Settings / Images page.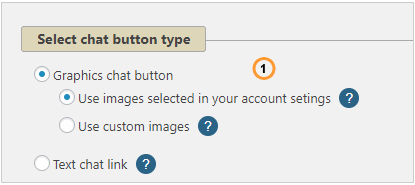 Chat Button Code Standard Position
2.Graphics Chat Button / Use Custom Images. This feature lets you use images hosted on your server. You'd need to specify absolute links to them in the fields for Online and Offline Image URL. This feature is useful if you have different websites and would like to show a separate set of images on your WordPress website.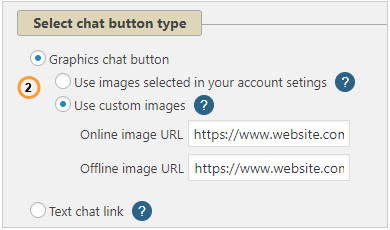 Chat Button - Custom Image
3.Text Chat Link. If you would like to show a simple link for your chats, use this option. You can apply HTML tags for formatting the link text. E.g. <font face="verdana" color="green">Live Chat Online</font>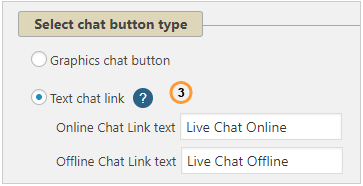 Text Chat Link Code